In Conversation
Join us to our In Conversation sessions and get to know some of the Spanish playwrights that have come to the Cervantes Theatre. Our cofounder Paula Paz will talk with them about their experience at the theatre, their work, their creative process, what moves them and what inspires them. 
Únete a nuestra serie de In Conversation y descubre a algunos de los autores que han pasado por el Cervantes Theatre. Nuestra cofundadora Paula Paz hablará con ellos sobre su experiencia en el teatro, su trabajo, su proceso creativo, lo que les mueve y lo que les inspira.
48 profesionales de diferentes sectores con una lengua común y una misma pasión que les mueve a estudiar teatro cada semana con Jorge de Juan en el Cervantes Theatre. Ingenieros, licenciados, enfermeras, médicos, arquitectas, contables, abogadas, diseñadores, terapeutas, científicos… Todos ellos toman la palabra y comparten contigo un poema desde sus casas.
10 poemas de amor y una canción confinada
Con el objetivo de lanzar un mensaje de amor en los tiempos del virus, Jorge de Juan y su hija María de Juan, Cantante y compositora granadina que acaba de publicar su primer disco 24/7, se unen en la distancia, desde Londres y Granada, respectivamente. Jorge leerá poemas de Joan Margarit, Gioconda Belli, Pablo Neruda y Alfonsina Storni, entre otros poetas, y María versionará el poema "Te quiero", de Mario Benedetti, acompañada de Andrés Barrios.
Velada propuesta por el Cervantes Theatre de Londres, en colaboración con el Instituto Cervantes Londres.
SHOWCASE ALUMNAS/OS
CERVANTES THEATRE
2 JUL

2.30pm
Acting classes students' Showcase (in Spanish)
Scenes and monologues of classical and contermporary plays co-directed by Jorge de Juan and Laura Arnaiz.
Running time: 1 hour and half (no interval)
Muestra de los alumnos del curso de Interpretación (en español)
Escenas y monólogos de textos clásicos y contemporáneos co-dirigidos por Jorge de Juan y Laura Arnaiz.
Duración: 1 hora y media (sin intermedio)
Flamenco Festival
at Cervantes Theatre
23rd – 25th June
Regresa el Flamenco Festival a Londres! Este verano trae una explosión del mejor flamenco.
El programa de este año celebra tanto a artistas emergentes como a leyendas del flamenco y tendrá lugar en el Cervantes Theatre (música) y en el Sadler's Wells (danza). Es una oportunidad única para ver a los mejores artistas internacionales de este género en Londres. 
Con una programación excelente para todos los gustos, este es tu festival tanto si eres amante del flamenco más puro como del más experimental.
The Flamenco Festival is back! Summer time begins with an explosion of flamenco. 
Flamenco Festival celebrates rising stars and Flamenco legends and this year's programme that will take place at the Cervantes Theatre (music) and Sadler's Wells (dance). It is a unique opportunity to see world-class international artists in London. With something for everyone whether you like your Flamenco classical, contemporary or with an experimental twist.
AURIC
1st MAY 7:30 pm


AURIC is a bilingual musical performance inspired by classical poetry from the Spanish Golden Age. The texts have been reinterpreted into spoken-word English by artist Paula Rodriguez and set to music by French composer Arthur Astier.
AURIC es un espectáculo bilingüe musical inspirado en textos dramáticos y líricos del Siglo de Oro español. Los textos han sido adaptados por la artista Paula Rodríguez y se acompañan de la música del compositor francés Arthur Astier.
El Origen de la técnica o el destino del teatro
El Cervantes Theatre de Londres en colaboración con el Instituto Cervantes se complace en presentar al maestro de actores Jorge Eines en una Clase Magistral bajo el título "El origen de la técnica o el destino del teatro" el acto será presentado por Jorge de Juan, director artístico del Cervantes Theatre y de la Spanish Theatre Company, y alumno de Jorge Eines.
CLASE MAGISTRAL
6 JULIO 6 pm UK / 7 pm ES
WEBINAR GRATUITO
COURAGE, OUTRAGE AND WOMAN
VALOR, AGRAVIO Y MUJER
by Ana Caro – Translated by Catherine Boyle
17th JUNE 6pm UK
Online Dramatised Reading in English
18th JUNE 6pm UK
Conversation with Catherine Boyle and Juana Escabias. Paula Paz moderator.
María de Juan 24/7 Tour – Concert 20th and 21st March



María de Juan comes to London as part of the tour of the 24/7 Album, produced by Manuel Cabezalí, in which the singer and keyboardist Víctor Cabezuelo, leader of the Rufus T Firefly band, has participated.
A conceptual album, mature and very personal, with a depth very rare for an artist her age, but not surprising due to her personal life and professional career. In this conceptual album with songs in Spanish, María de Juan associates the hours of the day with different feelings; 24 hours seven days a week.
María has been invited to be part of the 2020 Sonorama Festival and she promises to be one of the revelations of the year.
María de Juan llega a Londres en su gira de presentación de 24/7 su primer trabajo musical, producido por Manuel Cabezalí, en el que ha participado el cantante y teclista Víctor Cabezuelo, líder de la banda Rufus T Firefly.
Un disco conceptual, maduro y muy personal, sumamente peculiar atendiendo a la juventud de María, lo que no es de sorprender por su trayectoria personal, con  ocho  temas en castellano que nacen de la asociación de las horas del día con los sentimientos; 24 horas los siete días de la semana.
María de Juan, ha sido seleccionada para el Sonorama 2020 y promete ser una de las revelaciones de este año.
Will Scott recently graduated with First Class Honours from the Royal College of Music where he studied classical guitar under Gary Ryan, Carlos Bonell and Chris Stell, and jazz guitar with Milton Mermikides. He has also taken part in master classes with internationally renowned guitarists such as John Williams and Craig Odgen. During his school years, Will played in Guitar Circus, one of the UK's most prestigious youth guitar ensembles and played electric guitar in the Kent Youth Jazz Orchestra. Will was the winner of the 2014 mid-Kent Young Musician of the Year and the Tunbridge Wells Recital Prize and recently won the 2018 RCM guitar prize. He has played at IGF's London Guitar Festival at Kings Place and at other venues such as the South Bank Centre, The V&A and Elgar Rooms, Albert Hall. Will's guitar playing has also been used for a BBC documentary about the Portuguese artist Paula Rego.
Roberto Tascini is one of Italy's foremost classical guitarists, active both as a soloist and ensemble player. He has performed in more than 20 countries worldwide. Roberto has premiered numerous contemporary works, and has to his credit many recordings including Euro Teodori's Ad Parnassum and Music for winds & guitars with the EON Guitar Quartet. As a soloist he has recorded Suites y sonatas de latino america featuring music by Antonio Lauro, Gentil Montana and Alberto Ginastera and in 2013 The winter of our discontent with the Royal Winter Music I & II by Hans Werner Henze which was published in the Guitar Collection. In 2017 Roberto released Obsequio a el Maestro, a CD devoted to the music of Mario Castelnuovo-Tedesco.He is Artistic Director of the International Guitar Festival Joaquin Rodrigo since 2006, and currently teaches guitar at the Conservatory 'Paisiello' in Taranto, Italy.
What Guitar Trio is an ensemble made up of award winning guitarists Michael Hughes, Jonathan Parkin and Ioannis Theodoridis. The trio explores an array of repertoire with a focus on contemporary music, performing original works for guitar trio ranging from Anton Diabelli to Per Nørgård and Beat Furrer, as well as many of their own arrangements and premieres of new works.
Since its inception in 2016 the ensemble has performed in some of the most prestigious venues in the country, including Wigmore Hall, the Barbican and The National Portrait Gallery, and for The Greenwich Early Music Festival. The trio gained a place on the International Guitar Foundation's Young Artist Platform in 2018 and performed at Kings Place for the IGF's London Guitar Festival.
Arnaud Dumond has recorded 15 CDs and he has played in more than 60 countries. He is a prize winner of several international competitions such as those in Paris, Tokyo and the Gaudeamus Competition in Amsterdam. He is the author of many compositions for guitar solo, ensembles, concerti and choir such as his Mass in terra pax and Nativity Requie. The online magazine guitaremag.com wrote about him in 2018: Arnaud Dumond is one of the most exciting musical personalities on the French scene. The Dumond-Bernard Guitar Duo was specifically founded to record the work for two guitars by Arnaud Dumond. The duo has played worldwide, and have most recently toured in France, Spain, Portugal and Italy.
Jiva Housden and George Tarlton formed the Duo in 2012 while studying at the Guildhall School of Music and Drama. The Duo has performed across the UK, including at the Stogumber Music Festival and the London Music Festival and renowned UK venues such as Kings Place, Barbican and most recently Milton Court.
Whilst at Guildhall Jiva won the English Song Prize with Tenor Dominick Felix and performed at St. Martins-in-the-Fields. Jiva has recently performed with several orchestras, including performing the mandolin in Mozart's Don Giovanni alongside the tenor Marcin Bronikowski. George has performed in a variety of settings, including orchestral works, ensembles, chamber works and solo concerts, as well on the BBC Radio 3's 'Late Junction'.
Their passion for new music and performing the works of contemporary composers, including Stephen Dodgson and Sergio Assad, has attracted composers such as Conrad Stevens and Michael Omer to compose original pieces for the Duo
.
One of the most prominent guitar professors working in Austria, Gabriel Guillén was born in Maracay, Venezuela. He studied in South America with Abel Carlevaro, Leopoldo Igarza, José Gregorio Guanchez and Alberto Espinoza. In 1987 he was prize winner at the Antonio Lauro Competition and was awarded first prize by Rotary International. During this time he took an active part in masterclasses given by Abel Carlevaro, Rafael Benatar, Bartolomé Díaz and Franka Verhagen. In 1988 Gabriel Guillén moved to Vienna, Austria, studying under Prof. Walter Würdinger and in Zurich, Switzerland under Prof. Konrad Ragossnig.Guillén has given critically acclaimed concerts throughout Europe, South America, USA and Japan. Gabriel  Guillén received the "Merit Award" from the Austrian Government, The Kery Award, The Artinger Award, the "Amigo de Venezuela" award from the Venezuela Postiva and the "Honors Award" from Caracas-Avila. He is artistic director of the International Guitarfestival RUST in Austria.
Reading of fragments of the new work by playwright Almudena Ramirez, 'Golpe de Gracia', and post-show talk with the author .
Almudena Ramirez is currently in an international residency at Royal Court Theatre in London with the mission to write the play 'Golpe de Gracia'. This will be a unique chance to talk with the renowned writer about her work in progress. Free entry, booking essential. 
Flamenco Festival London
For the first time, together with Sadlers Wells and Rich Mix, the Cervantes Theatre is proud to be part of the annual Flamenco Festival London which runs from 2 – 14 July 2019. World class flamenco, in London's most intimate quality venue
Diego Villegas
Bajo de Guía
Sat July 6th 2.30pm
Flamenco Abierto

Sat July 6th 7.30pm
Jazz Eñe. Antonio Lizana
Oriente
Thu July 11th 7.30pm
Ticket prices: £12 (adult) / £10 (concessions) / Free for 18 and under
IGF's Guitar In London Series
Sunday June 9th 2019 from 3pm – 4.30pm
Daniela Rossi is an exciting classical guitarist from Argentina. She studied at the Conservatory of Bahía Blanca, her hometown, where she graduated in 2006. Since then she has studied with many leading guitarists and teachers worldwide, including Paolo Pegoraro,Adriano del Sal Eduardo Isaac, Victor Villadangos, and Graham Devine. Based in Cambridge, UK, Daniela performs regularly in Latin America, Europe and the UK in solo, duet and small ensemble recitals. She has played at many important festivals. Her orchestral debut was at the age of 21 in México, performing the Concierto de Aranjuez by Joaquín Rodrigo. Daniela is comfortable with music from all periods and is particularly interested in the music of Romantic composer Giulio Regondi, having explored his language in depth over the last few years including recording a CD featuring his works. Daniela has won numerous awards and prizes across South America and Europe, including winning the London International Guitar Competition (2015), second prize in the Heinsberg Guitar Competition, Germany (2017), and first prize in the XXXVI Luis Sigall International Music Competition, Chile (2009).
Bobby Rootveld (guitar and vocals) and Sanna van Elst (recorders and vocals) formed Duo NIHZ in 2001. This Dutch duo is currently based in Germany. Next to the traditional classical repertoire Duo NIHZ specializes in Klezmer, Yiddish songs, comedy and Theatre, contemporary music and music composed during the Shoah. Many composers have dedicated works to Duo NIHZ, including Nikita Koshkin, Richard Vaughan, Daniel Akiva, Annette Kruisbrink, Gianmartino, Maria Durighello and Louis Ignatius Gall. Since 2001 Duo NIHZ have performed over 1500 concerts all over the world. Every year the duo releases at least one new CD or DVD. In January 2011 Duo NIHZ opened its own concert hall in Nordhorn, Germany. Kulturhaus NIHZ (www.kulturhausnihz.de) contains Europe's biggest classical guitar library and research archive including sheet-music, CDs and LPs. Kulturhaus NIHZ also hosts several music festivals. Bobby Rootveld is also the founder and executive producer of record label Samsong Productions.
IGF's Guitar In London Series
Sunday May 19th 2019 from 3pm – 4.30pm
Dimitris Soukaras (born 1995) is a Greek guitarist, chamber musician and composer living in London where he is a Masters student at the Royal Academy of Music studying with Michael Lewin and Stephen Goss. Dimitris has received distinction in 12 international competitions, including first prize at Mottola International Guitar Competition 2018 and also winning the Academy of Athens Music Scholarship 2018. Dimitris is included in the EuroStrings project, appearing at some of the 17 member guitar festivals in 2019. He is recording his first CD which will be published by dotGuitar. He has performed in many festivals in Greece, including a solo recital at the Megaron Athens Concert Hall and recorded for the national radio ERT. Dimitris completed his Bachelor of Music with the highest marks and honours at the Ionian University Department of Music Studies under Costas Cotsiolis and Kostantinos Vougiouka. He was the first student of the University to complete his studies in three years instead of the standard five.
Join master guitarist Stefan Grasse for a thrilling concert of vivid music from Brazil, Cuba, Argentina, France and Spain. Be entertained by bossa nova from the sandy beaches of Copacabana and Ipanema, passionate tangos from the bars and brothels of Buenos Aires, the valse musettes of Parisian cafés and red hot Flamenco sounds from Andalusia. Much of the music tonight comes from Stefan's highly acclaimed new album 'Entre cielo y tierra' (between sky and earth) which offers colourful new arrangements of music by A.C. Jobim, Gerardo Nuñez and his own. "Entre cielo y tierra" is performed by a master virtuoso, one of the most exciting European guitarist to appear on the concert platform in recent years. A blend of yearning, zest for life and pleasure!
Ticket prices: £12 (adult) / £10 (concessions) / Free for 18 and under
IGF's Guitar In London Series
Sunday April 7th 2019 from 3pm – 4.30pm
Joao Lima, born in Portugal, prides himself in his versatility and broad musical interests. Asa solo artist, he has recently performed at Kings Place as part of the London Guitar Festival and with his guitar and cello duo, in the Orange Tea Time Concerts in Frome, Somerset. Besides the classical guitar, he has a strong interest in electric guitar, composition as well as performing with non-classical artists and collaborating with other art forms. He is currently based in London, where he recently finished his Masters at the Royal Academy of Music with Distinction in Performance.
Javier Garcia Moreno, from Målaga, is one of the leading Spanish guitarists of his generation. After graduating with honours from the Real Conservatorio Superior de Müsica de Madrid, he was a laureate of a host of national and international competitions. He has since toured Europe, the US and the far east, performing in major venues such as Carnegie Hall, New York and the Auditorio Nacional in Madrid. Asa soloist, he has also played with numerous orchestras including the European Chamber Orchestra, the Simon Bolivar Orchestra and the Målaga Philharmonic. He is a professor of classical guitar at the Conservatorio Superior de Müsica de Målaga and gives masterclasses around the world. Amongst his many awards and honours he was awarded the Maestro Alirio Diaz Award.
Ticket prices: £12 (adult) / £10 (concessions) / Free for 18 and under
IGF's Guitar In London Series
Sunday March 17th 2019 from 3pm – 4.30pm
Jack Hancher studied at the Royal College of Music,
graduating with first class honours in 2016. He recently
completed his Master in Performance degree at the
RCM with professors Gary Ryan and Chris Stell. In 2018
Jack made his debut at the Wigmore Hall, followed by a
first performance at the Cheltenham Contemporary Arts
Festival. In 2017 he won a place on IGF's Young Artist
Platform, performing at Kings Place in October that same
year. Jack won the RCM Guitar Award 2014 in only his
second year. In 2015 he played with his duo partner on
IGF's Aspire Stage and later in the year at St Judes on
the Hill Prom Series. Jack has played abroad including
performances in Ronda and La Herradura, Spain, and at
the Conservatorio di Musica Giuseppe Verdi in Turin, Italy.
Andrea Vettoretti is one of Italy's leading guitarists of
the younger generation. He studied in Italy and at the
prestigious École Normale de Musique in Paris, where
in just two years he obtained the Diplome Supérieur de
Concertiste. Vettoretti has claimed first prize in no less than
12 national and international competitions and regularly
performs for major concert organisations around the world.
Vettoretti's interest in enriching the guitar repertoire has
led him to collaborate with several composers, with many
of them dedicating works to him. This concert features his
own music for 'Wonderland', inspired by the fantasy world
of Alice in Wonderland, published by CNI. His music has
been used by film director Davide Del Degan (selected
for the Cannes Festival in 2016). Andrea is sponsor and
ambassador of Musicare, a musical education program for
children from the Santa Eulalia Valley in Peru.
¡Ay, amor!
Saturday February 16th at 7pm
A recital of XVIIth century Spanish solo keyboard music and Tonos Humanos for voice and keyboard, curated by Professor Sir Barry Ife, and featuring composers such as Hidalgo, Arañés, Romeo, Borja, Galán, Garau and Marín.
Performed by Marta López Fernández (harpsichord) and Jorge Navarro Colorado (tenor).
¡International Guitar Foundation and Festivals
Sunday February 17th 2019 from 3pm – 4.30pm
In the first event of its London 2019 series, we welcome Chilean guitarist Emmanuel Sowicz, winner of the London International Guitar Competition 2018.
KEEP ON WALKING FEDERICO by Actors Touring Company
Written and Performed by Mark Lockyer
Director Alice Malin
UK Premiere
???? "Lockyer has one hell of a story and he tells it rivetingly well" The Times
Keep on Walking Federico is a funny and moving tale of a journey across borders – a journey through the midnight of the soul…
It is the brand new play by the writer and performer of Living with the Lights On, an ATC production that has been acclaimed by critics and by audiences from Bristol to Barcelona (including two sell-out runs at the Young Vic).
"And in that moment I realised… things had got a bit grim."
Mark is struggling. Work, relationships, going grey. Add to that, he can't even get his head around Snapchat. Then a letter arrives. Mark has no choice but to leave…with no idea if he'll ever come back.
The play tells the story of Mark's journey into an uncertain future. Being Mark, he decides he should experience it in sunny Spain. But there, he encounters incidents and people that keep reminding him that living in the present and looking forward to the future doesn't always mean escaping from the past. With time to contemplate and as his thoughts turn to his relationships with his parents, his upbringing and the experiences that have brought him to this point, Mark's challenge is to find the ability to move forward whilst acknowledging what is behind him.
Performances 
18th – 21st October 2018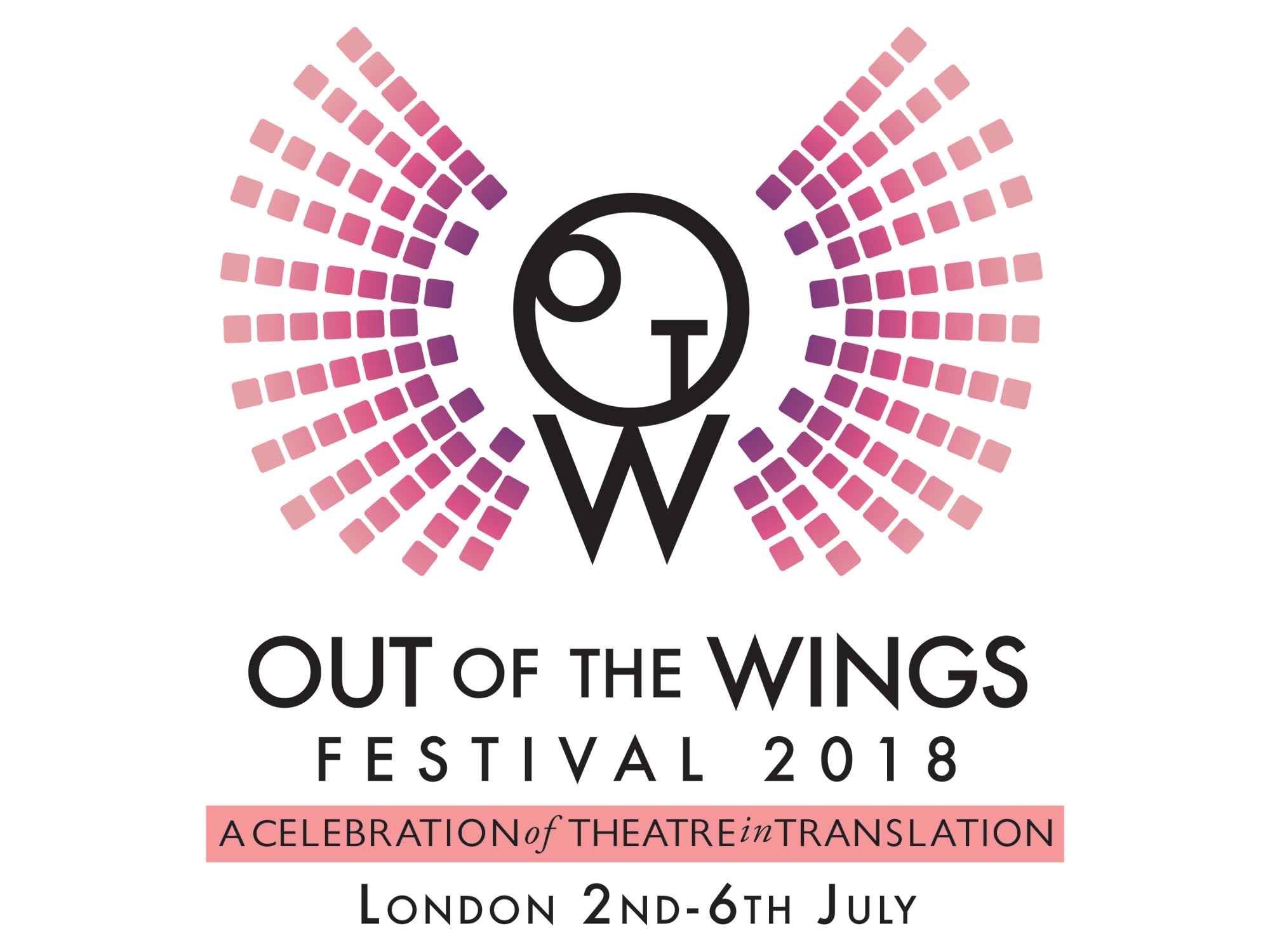 OUT OF THE WINGS FESTIVAL
2nd-6th July

The Out of the Wings Festival returns to the Cervantes Theatre!
Now in its third edition, this year's festival will include a day-long symposium event and three translation-themed workshops, alongside the usual five evening readings of translated plays from the Hispanic and Lusophone world.
THE SEED ROOM
20th May 6pm
The Seed Room brings top class international musicians, poets, spoken word artists and thinkers together to share their work and ideas in an inspiring evening, with contributions both in the Cervantes Theatre and live-streamed from across the world.
MARÍA CAMAHORT QUINTET
6th May  6pm
Maria Camahort Quintet presents Iberian Colours, a musical journey to discover the relationship between Spanish Classical repertoire and traditional music, sharing with the audience the vivid colours, earthy textures and rhythms of Spanish musical art.
LATE SESSIONS: Bokito + Rothwell
26th January 8pm
If you feel like treating yourself to a night of live music at the theatre, then, come join us this 26
th

 of January!
One of the cosiest gigs that you will attend this 2018, the talent is secured with Rothwell: "A wonderful piece of songwriting, all maturity blossoming and potential illuminating" – Clash
The night will be topped by the charismatic and energetic Bokito. Expect the unexpected!
GUILLEM BALAGUE
Guillem Balague will host an evening of footie chat at the Cervantes Theatre in London on the 11th Dec. discussing, among other things, his new book, "Brave New World – Inside Pochettino's Spurs". He'll be joined by fellow journalists and authors Raphael Honigstein and Gabrielle Marcotti. All authors' books will be available on the night which they'll be happy to sign for you.
PAST EVENT
Springboard Season. Merging Cultures.
April-June 2017
Spanish and Latin American creators meet artists from all over the world in this new season.
The Cervantes Theatre will open its doors to great companies and projects with a strong commitment to bring together different cultures and various approaches to multiculturalism. Spanish and Latin American creators will be at the heart of every project and the season will bring together theatre, music and dance. 
This is a unique opportunity to discover new artists and companies who reflect the reality of London, a city which celebrates the importance of merging cultures.
London is open. The Cervantes Theatre is open.
If you are an artist or a company and you would like to submit your project for this season please email info@cervantestheatre.com with the subject Springboard Season.
Zaha, The Magic Curve
6th April 2017
Cervantes Theatre
A tribute of music and dance to the memory of the architect Zaha Hadid, the first woman to receive the Pritzker Architecture Prize and undoubtedly, the queen of contemporary iconic architecture.
Dame Zaha Hadid was the world's most famous woman in a starchitect stratosphere strangely dominated by her masculine peers.
With performances by:
Javier "Peke" Rodriguez
Erwin Grafe
Marie Soliman
+ World Ballet Institute of Movement.
Un tributo musical y de danza, compuesto en memoria de Zaha Hadid cuando se cumple el primer aniversario de
su muerte. Zaha Hadid fue la primera mujer que recibió el premio
Pritzker de Arquitectura y fue, sin género de dudas, la reina de la
arquitectura contemporánea, creadora de iconos y edificios
emblemáticos en todo el mundo.
Dame Zaha Hadid fue la mujer más reconocida de la arquitectura moderna en un mundo extrañamente dominado por sus colegas
masculinos.
Con actuaciones de:
Javier "Peke" Rodriguez
Erwin Grafe
Marie Soliman
+ World Ballet Institute of Movement.
PAST EVENT
ALL LORCA SEASON 
A series of dramatised readings and a concert conference, to celebrate the lesser-known works of Federico Garcia Lorca and to continue the Spanish Theatre Company's promise to present all of Lorca's work.
23 –  24 Jan 2017 at 7:30pm (tickets £5)
Lecturas Dramatizadas: El Maleficio de la Mariposa y Don Perlimplín con Belisa en el Jardín


Performed in Spanish

.
25 Jan 2017 at 7:30pm (tickets £5)


Dramatised Readings: The Butterfly's Evil Spell and Don Perlimplín and Belisa in the Garden


Performed in English.



26 – 27 Jan 2017 at 7:30pm (tickets £8)
Lecturas Dramatizadas y Conferencia Concierto
Lecturas dramatizadas de unos diálogos y obras cortas, y una lectura de la conferencia de Lorca Nanas Infantiles, con
música en vivo.

Performed in Spanish.
28 Jan 2017 at 7:30pm (tickets £8)
Dramatised Readings and Talk with music
Dramatised readings of some of Lorca's dialogues, short plays and other works and a reading of Lorca's lecture On Lullabies accompanied by live music.


Performed in English.
THIS IS A PAST EVENT.
Box office number: 020 3633 4406
Box Office opening hours:
Mon - Fri 10:00-18:00
Cervantes Theatre Arch 26 229 Union Street London SE1 0LR