Gloria (performed in Spanish)
March 16th 2019: 7.30pm
by Noelia Adánez y Valeria Alonso
with Ana Rayo
Gloria enters her dressing room overwhelmed by the noise made by her young fans who terrify her.  Someone else follows her in with whom the poet starts a dialogue, full of memories, tenderness and fun.  Among her dream like memories, she recalls her first day of class on Spanish poetry  at a North American university in 1961: Gloria was at her intellectual zenith, ready to start teaching, writing and loving…
This is theatre about women, written, directed and performed by women.
NEED HELP WITH THE SPANISH ?
For those ticket holders who are feel they might need a little bit of extra help with their Spanish to get the most out of the evening we are offering the following:
Scripts of the play in Spanish will be available at the Cervantes Theatre from Tuesday 26th for ticket holders to come in and read the play prior to seeing it
On Thursday 14th March ( 2 days before the play) we are offering a free workshop for ticket holders to come in and discuss the play before they see it
ANA RAYO
Started in Cristina Rota's Performing Arts School 25 years ago and since then has combined theatre with television and cinema. In theatre she has worked widely, counting amongst her credits  "Confesiones de mujeres de 30" by Lía Helín, "Amor y otros pecados" by Javier Veiga; "Las cuñadas" dirigido by Natalia Menéndez for Teatro Español; "Mentiras, incienso y mirra" by Juan Luis Iborra; "Sexos" de Pep Antón Gómez; "Lifting" by Félix Sabroso y Dunia Ayaso and "La vida en blanco" by J.M. Carrasco. And more recently in theatre "Memoria o desierto" by  Ignasi Vidal and "Marca España".
In television and cinema she played many roles in such shows as  "Javier ya no vive solo" "Moncloa dígame" and "Pelotas", "Cuestión de sexo", "Abuela de verano", "Sin tetas no hay paraíso", " Límite 48 horas". "La que se avecina"; in cinema "Los años bárbaros "Inconscientes" and more recently "Algo que celebrar" and "Vida en marte".
She was awarded the prize for best actress for "Reconstrucción" in the short films week in Madrid.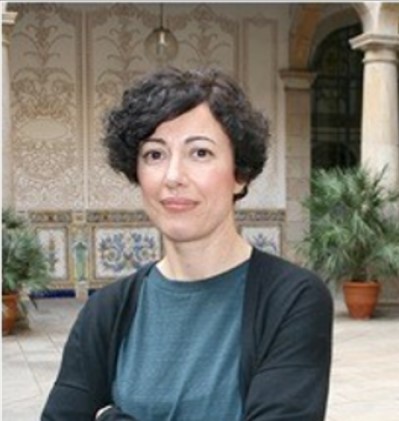 NOELIA ADÁNEZ 
Noelia Adánez (playwright) is Doctor in Political Science and Sociology by UCM and MBA in institutions management and cultural companies by the Universidad de Salamanca. She has taught for 14 years and researched in higher education (UCM and UAM) where she taught History and Political Sciences.  She is a regular contributor in the radio programme 'Julia en la Onda', in Onda Cero, on the programme "El Gabinete" and in "Diálogos" on the programme A Vivir que son Dos Días, in Cadena Ser. She regularly contributes to diario Público in Público TV and in the digital magazine CTXT.  She writes and discusses history, memory, politics, culture, women and feminism in this medium.
She is co-founder and co-director in the women publishing company "Recalcitrantes". She has documented the play "El Rey de Alberto San Juan". She has worked the historic treatment and documentation of "Masacre", also by Alberto San Juan. 
Gloria is the second in the trilogy "Mujeres que se Atreven" (Women who dare) . The first one was "Emilia" and it also comes from one of her original texts . She was a finalist in the Max Prizes 2018. 
She teaches acting classes and dramaturgy in Performing Arts Schools and institutions such as AISGE, Estudio Juan Codina, Universidad Complutense in Madrid and in Centro Dramático Nacional.
VALERIA ALONSO
is a multidisciplinary artist, who was born in 1979 in Buenos Aires. She is the artistic director for LA CABRA theatre company . She lived and studied for 10 years in Spain and France.
Currently, she combines several disciplines such as video, dance, theatre and cinema in her work. In 2003 she was awarded the First Prize for Young Talents by the French government. She won the First Prize on Madrid 20th Choreography Certamen 2006, and she was given a grant by the Swiss government to create the dancing video "Viento Mucho Viento" premiered in Geneva 2013. In 2012 she received an honourable mention of her dramaturgy by Fondo Nacional de las Artes(National Fund for the Arts, Argentina).
She has created and directed more than y 8 shows, performances y many videos. She has worked in Spain, France, Belgium, USA, UK, Switzerland, Italy, Argentina, Japan and China, as a creator and/or performer of other companies ( De la Gurada, Fuerza Bruta, La Fura dels Baus…) From 2001 onwards she has carried out independent research work and directed short films,   one of which a 40 minute film "La queja", participated in the section "Femmes realisatrices"  du XIV Festival de cinema d'Amerique latine in Toulouse, France. She writes for cinema and television.. "El Milagroso" is her first feature film.
MADRID: LA CIUDAD DEL ABRAZO
Así es Madrid: una ciudad que abraza al que viene de fuera. Por eso hemos traído hasta el Teatro Cervantes de Londres el icono que a partir de ahora servirá para representarla en los medios de comunicación y en los grandes eventos. A ella y a los madrileños, a su infinita capacidad de acogida, que se transforma siempre en una cálida bienvenida sea cual sea tu lugar de procedencia. Queremos que todo el mundo sienta que ese primer abrazo que recibe cuando llega, lo damos con el corazón.
Madrid te abraza como lo hace una ciudad abierta y acogedora; es ese abrazo el que hace que cuando vienes a Madrid, ya seas de Madrid. Una cualidad que genera diversidad, encuentro y, por ello, energía creativa. Madrid atrae e inspira porque es ocio, cultura, diversión y calidad de vida, pero también oportunidades profesionales y de negocio como solo una gran capital global y conectada puede ofrecer.
En Madrid el arte y la cultura son dos rasgos que acompañan a la ciudad casi desde su propio origen. Madrid es una de las ciudades del mundo que más se ha contado en relatos y textos literarios, es una de las capitales europeas con mejor y más visitada oferta de museos y es la ciudad de España con más teatros. Madrid es también una ciudad llena de creación innovadora, con una excelente oferta de teatro alternativo, llena de galerías y proyectos expositivos rompedores y con una escena musical en permanente renovación. La vida de Madrid se transmite a su cultura, una cultura que es tan abierta y vibrante como la ciudad de la que es reflejo.