La Blanca (performed in Spanish)
March 2nd 2019.  7.30pm
by María Folguera
with Anahí Beholi
Anahí Beholi asks herself: What happens when your parents are hippies from Ibiza, your grandmothers, one is Guinean and the other is Catalan, your grandfather is a German landowner and you are an actress whom nobody knows how to define?
La Blanca is theatre disguised as a chat, with aspirations to be a monlogue and a desire for confession. On stage, a heroine and a choir, tragedy with true perspective, comedy.
Anahí Beholi and María Folguera met during the show La increíble historia de la chica que llegó la última. (The incredible story of the girl who arrived last)  The discussions that this show surfaced encouraged them to continue their research into the question: Why is it so difficult to accept the diversity that surrounds us?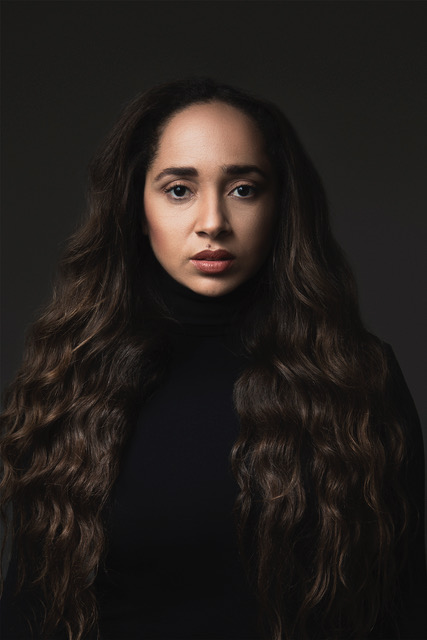 ANAHÍ BEHOLI
Anahí Beholi is the main character in La Blanca.  She has participated in projects such as Fiesta, Fiesta, Fiesta by Luc?ía Miranda, a production that is touring Spain currently and in La incre?íble historia de la chica que llegó la última by Carla Guimaraes.
Among her last films are Ispansi and 2 Francos, 14 pesetas by Carlos Iglesias.  She played Ana in the serie Segunda oportunidad in the Spanish TV channel Telecinco. She trained in Ibiza and Barcelona and she has more than 10 years' experience working on her own puppet and opera projects.
MARÍA FOLGUERA
is a writer, stage director, playwright and a cultural agent.  Currently she is the artistic director of Madrid Teatro Circo Price. She has premiered her plays Sangre Forzada (at the Gigante Festival, 2018), La guerra según Santa Teresa (2013-2018), El amor y el trabajo (premiered at the Contemporary Stage Festival 2011 and published in Continta Me Tienes in 2012) and Hilo debajo del agua, the Valle-Inclán's Theatre Plays Prize 2009.
As a director, she has toured through Spain and Germany with La incre?íble historia de la chica que llegó la última.  She graduated in Stage direction at RESAD and has studied Theoretical and Comparative literature at the Universidad Complutense. In 2016 she published her first novel Los primeros días de Pompeya (ed. Caballo de Troya).
MADRID: LA CIUDAD DEL ABRAZO
Así es Madrid: una ciudad que abraza al que viene de fuera. Por eso hemos traído hasta el Teatro Cervantes de Londres el icono que a partir de ahora servirá para representarla en los medios de comunicación y en los grandes eventos. A ella y a los madrileños, a su infinita capacidad de acogida, que se transforma siempre en una cálida bienvenida sea cual sea tu lugar de procedencia. Queremos que todo el mundo sienta que ese primer abrazo que recibe cuando llega, lo damos con el corazón.
Madrid te abraza como lo hace una ciudad abierta y acogedora; es ese abrazo el que hace que cuando vienes a Madrid, ya seas de Madrid. Una cualidad que genera diversidad, encuentro y, por ello, energía creativa. Madrid atrae e inspira porque es ocio, cultura, diversión y calidad de vida, pero también oportunidades profesionales y de negocio como solo una gran capital global y conectada puede ofrecer.
En Madrid el arte y la cultura son dos rasgos que acompañan a la ciudad casi desde su propio origen. Madrid es una de las ciudades del mundo que más se ha contado en relatos y textos literarios, es una de las capitales europeas con mejor y más visitada oferta de museos y es la ciudad de España con más teatros. Madrid es también una ciudad llena de creación innovadora, con una excelente oferta de teatro alternativo, llena de galerías y proyectos expositivos rompedores y con una escena musical en permanente renovación. La vida de Madrid se transmite a su cultura, una cultura que es tan abierta y vibrante como la ciudad de la que es reflejo.