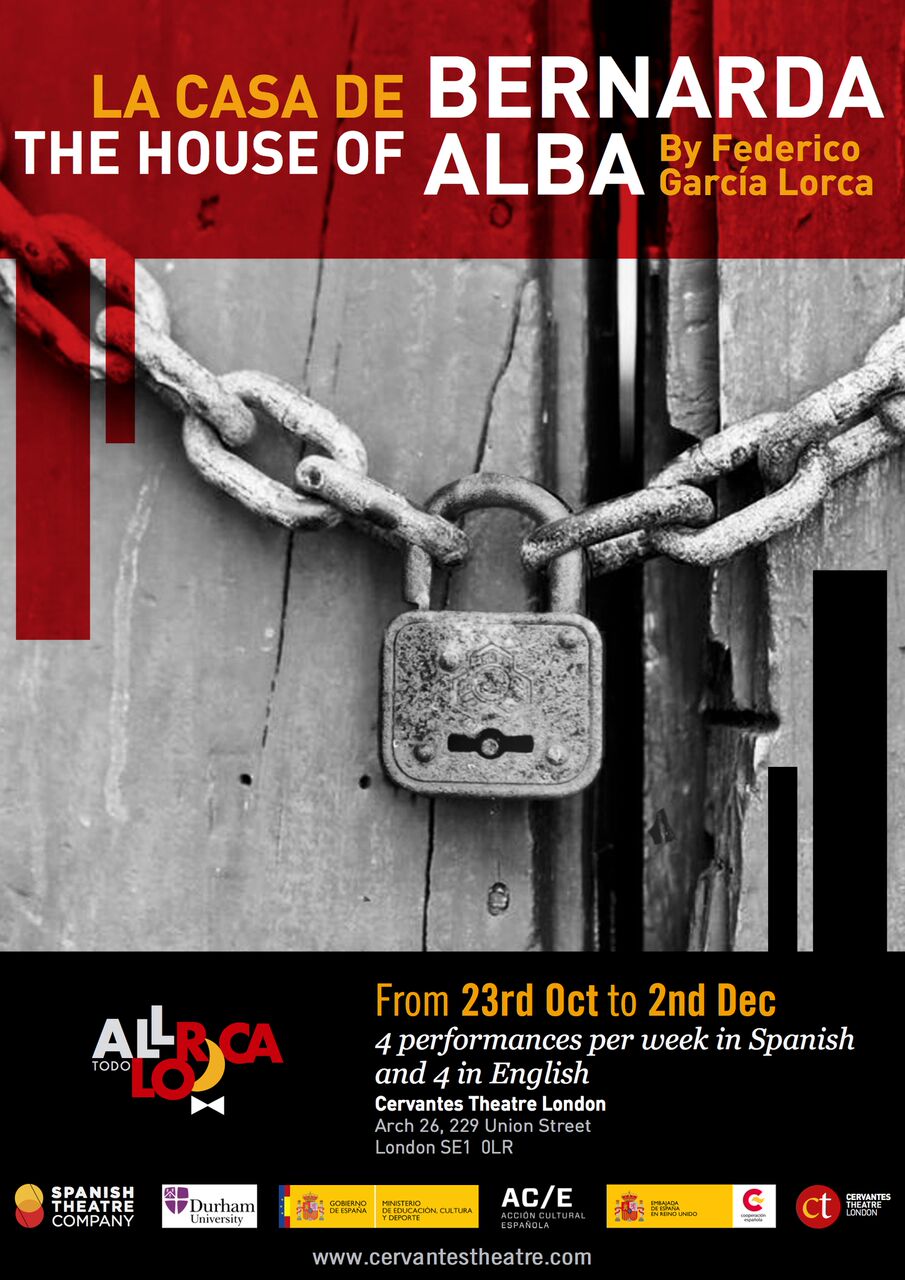 THE HOUSE OF BERNARDA ALBA -AUDIENCE REVIEWS
LA CASA DE BERNARDA ALBA – CRÍTICAS DEL PÚBLICO
Rated: 5*
'This was an excellent performance of a beautifully lyrical and deeply disturbing play. The power of the writing, and of the actor's performances filled this tiny theatre, a space that so easily had the audience believe (even on a cold November evening in London) that we were in a hot, stifled family villa in a small Spanish village at the turn of the last century. The black clad women, and the white clad set covered turbulent emotions that unveiled in front of us as passion rose amongst the women who yearned for freedom in the form of physical and emotional release – but it was the female matriarch who held supreme in this society, and there would be no release in this life…'
Rated : 5*
'Really loved this. The play itself is incredibly bleak but the acting was brilliant and the staging effective. I felt transported into their world. I've recommended to friends and family.'
Rated: 4*
'A great play in a wonderful venue. Acting was at times a touch too affected. This will be my new favourite theatre in London.'
Rated: 5*
'A wonderful, if rather depressing, play. The cast was brilliant, especially Bernarda Alba and her old servant. The whole was totally convincing with a palpable sense of the claustrophobic, dull environment, the heat, the tensions within the family and life under a tyrannical matriarch who wants to preserve her position and the antiquated values by which her family have lived for generations.'
Rated: 5*
'Very powerful and gripping. Great team.'
Rated: 5*
'A gripping and moving performance. Mary Conlon is perfectly cast as the formidable Bernarda Alba. Also really enjoyed the performance of Moir Leslie as Poncia. Great theatre too – very comfortable and modern with a nice bar upstairs.'
Rated: 5*
'Excellent production with superb acting by the whole cast. A deeply moving experience. I wish I understood Spanish so I could watch the Spanish production!'
Rated: 5*
'One of the best productions I have seen to date, showing great understanding of the work, and flawless execution.'
Rated: 5*
'Another amazing production at the Cervantes. Superb acting, great direction. I love this intimate and welcoming theatre.'
Rated: 5*
'Intense, brilliant acting, excellent experience'
Director
Jorge de Juan
Jorge is a renowned Spanish producer, director, and actor.
He is co-founder of the Spanish Theatre Company (London) and Artistic Director of The Cervantes Theatre
He trained at the Royal School of Dramatic Art of Madrid (Acting) and the British Theatre Association (Directing and Producing).
Directing credits include: The Public and The Grain Store (Fourth Monkey); End of the Rainbow; Dracula; The 39 Steps (Spanish production); The Woman in Black (Spanish production). As Dramaturg: She Said(English National Ballet). At the Cervantes Theatre he has directed Bodas de Sangre/Blood Wedding and El Juez de los divorcios/The Judge of the Divorces
As an actor he has appeared in more than 20 plays, 30 films and TV series, having played the lead in over 30 projects. Some of the credits include: (Theatre) Blood Wedding, Calígula, Oedipus, Macbeth, Richard III, The 39 Steps. (Feature Films), Talk of Angels, Open your Eyes, One of the Hollywood Ten. He has worked with both Spanish and foreign directors.
The Cast
TOP (LEFT TO RIGHT)
JIMENA LARRAGUIVEL (CRIADA ENGLISH AND SPANISH)
Jimena Larraguivel is a Mexican-British actor who launched her stage career with award-winning theatre company Ten Ten Theatre (National Tour). Screen credits include: 'Babies' (2nd Prize Best Film 32nd International Catholic Film Multimedia Festival), 'Conscript' (Guildhall Pictures), 'Apple Tree Yard' (BBC), 'Nine Mile Creek' (Almería Western Film Festival).
JUDITH ARKWRIGHT (MARIA JOSEFA SPANISH)
Jude Arkwright began her acting career 8 years ago. She has appeared in productions for London Bubble Theatre including 'Docks to Desktops' and 'After Hiroshima'. In 2013 she joined the Old Vic Community Company, appearing in  'Housed', 'Ages' and 'Rise' as well as pop-up pieces.
She is a member of Wastenot Theatre.
TERESA CENDÓN (ANGUSTIAS SPANISH)
Teresa is a Spanish actress who studied at the CSSD. As well as appearing in a wide range of short films, documentaries and TV commercials , Teresa has had the privilege of performing in London in plays such as 'The Challenging Tide', 'The Story of a Staircase', 'Seven Seconds' & 'Blood Wedding'. 
AMPARO CLIMENT (BERNARDA SPANISH)
Amparo is a multidisciplinary artist, who studied Fine Arts and Acting at the Universidad Complutense de Madrid. She is also a scriptwriter, playwright and documentary film director. She won the Medalla de Oro for "Real Círculo Artístico" Barcelona, Best Leading Actress at Ayuntamiento y Ercilla de Teatro and the Agustín González Theatre Award in 2011.
MAITE JAUREGUI (ADELA ENGLISH AND SPANISH)
Maite is a US-Spanish actress who has played numerous roles in Spanish TV and after training at RADA in London has since participated in several theatre productions and TV series in the UK. She has co-created an Arts Council England funded one woman show with Pau Aran which will premiere in 2018. 
MARY CONLON (BERNARDA ENGLISH)
Mary is delighted to be back at the Cervantes Theatre where she played The Mother in 'Blood Wedding'. She has just finished two short films and 'Dancing Alone' won an award for best drama. . She has played many classical roles in Shakespeare, toured extensively and appeared on television including costume drama, 'Eastenders' and 'Holby City'. 
JOANNA KATE RODGERS (ANGUSTIAS ENGLISH)
Joanna's career started at 17 years with a lead in a short, which was screened at the Edinburgh Film Festival. She has worked on numerous features and shorts, including collaborations with award winning director Marco Sanges. Her most recent role was the lead in award winning director Stanislava Buevich's 'Self-Control'.
GILLY DANIELS (MARIA JOSEFA ENGLISH)
Gilly returns to the Cervantes stage after her success earlier this year in 'Darwin's Tortoise'. She was seen here again in The New Spanish Playwriting festival translation of 'Summer in December'. She has just been working with comedian Michael McIntyre on his BBC 1 'The Big Show,' which will air this November.
PIA LABORDE (AMELIA ENGLISH AND SPANISH)
Pía Laborde Noguez is a Franco-Mexican actress. She graduated from RADA with a BA in Acting in 2012. Past work includes 'In the Beginning was the End' (Dreamthinkspeak), 'Boat' (Pigdog), 'The Tempest' (Norfolk Theatre Fesitval), as well as 'The Seagull' (Burgundy, France) and Mexican film 'Los Paisajes' by Rodrigo Cervantes. 
BOTTOM (LEFT TO RIGHT)
LUCIA ESPÍN (MARTIRIO SPANISH)
Born in Madrid, 1987. A graduate of Cristina Rota. Her theatre work includes 'Que no he muerto' (José Sámano 2013), 'Yerma' by Federico García Lorca (Miguel Narros 2014), ' La Gitanilla' by Miguel de Cervantes (Sonia Sebastián, Festival Clásico de Alcalá 2015) and 'Bodas de Sangre' by García Lorca (Jorge de Juan, London 2016).
MAYCA ESTÉVEZ (PONCIA SPANISH)
Mayca Estévez, started her acting career at the early age of 11 in her home town, Vigo (Spain).  Later, putting acting to one side, she joined the Spanish Foreign Service.  Two years ago she returned to the stage performing in 'Blood Wedding' and 'Verano en Diciembre'.
CANDELA GÓMEZ (MAGDALENA ENGLISH AND SPANISH)
Candela Gomez is a bilingual actress from Malaga. She trained at Juan Carlos Corazza's Actors Studio.She has appeared in Theatre Productions such as 'The Trojan Women', 'Lysistrata', 'Blood Wedding', and 'The Judge of the Divorces'. Candela plays a leading role in the Musical Feature Film 'SOLO!' directed by Nic Cornwall.
CAROLINA HERRAN (PRUDENCIA ENGLISH AND SPANISH)
Carolina trained in New York and in London and holds an MA in Acting from ArtsEd. She is a member of Althea Theatre. Credits include: 'One Last Thing (For Now)' (Old Red Lion Theatre), 'Serpent of The Sea' (CASA Latin American Theatre Festival) and 'A Midsummer Night's Dream' (Southwark Playhouse, rehearsed reading).
MOIR LESLIE (PONCIA ENGLISH)
Moir has worked extensively in theatre. She has recorded over 300 productions for BBC radio and was a regular in The Archers. Television work includes The Bill, Pride and Prejudice, Unexplained Laughter, Grafters and Dalziel & Pascoe. Films; Remote, The Secret, Vigilante. Recently:  Slebs, Dear Liar, Mary Broome and Three Generation of Women.
BETH SMITH (MARTIRIO ENGLISH)
Beth Smith trained with Fourth Monkey Theatre Company performing in 'Tamburlaine the Great' and 'The Public'. Her experience includes working with ZSL London Zoo and forming theatre company Scram Collective, performing 'Whimsy' at Theatre N16 this year. She is a burlesque artist and keeps herself firmly off the ground as a rock climber.
Creative Team
Director – Jorge de Juan
Production Coordinator – Isabella Ley
Set designer – Ángel Haro
Costume designer – Isabel de Moral
Lighting designer – Jonathan Jewett
Music – Javier "Peke" Rodríguez
Graphic designer – Alberto Iniesta