La escena madrileña está viva, como la ciudad, y queremos ofrecer una ventana internacional a nuestras artistas y creadoras para que expongan lo mejor de su trabajo de los últimos años, en una ciudad como Londres donde la cultura y el emprendimiento forman parte de su ADN particular.
Marzo es el mes elegido por el Cervantes Theatre de Londres para mostrar la excelencia cultural de las mujeres que crean en Madrid. Tenemos el placer de traer a cuatro compañías de teatro invitadas para representar cuatro obras escritas e interpretadas por mujeres.
Madrid's cultural scene is alive, just like the city itself, and we want to offer an international platform for our female artists and creators to show their work in London, a city where culture and entrepreneurship are part of its DNA.
March is the month chosen by the Cervantes Theatre to showcase the cultural excellency of female creators who work and live in Madrid. We have the pleasure of welcoming four theatre companies from Madrid to perform four plays written and performed by women.
La Blanca
2nd March 2019 : 7.30pm
by María Folguera
with Anahí Beholi
Anahí Beholi asks herself: What happens when your parents are hippies from Ibiza, your grandmothers, one is Guinean and the other is Catalan, your grandfather is a German landowner and you are an actress whom nobody knows how to define?
La Blanca is theatre disguised as a chat, with aspirations to be a monlogue and a desire for confession. On stage, a heroine and a choir, tragedy with true perspective, comedy.
Descarriadas
9th March 2019 : 7.30pm
by Laila Ripoll
with Luna Paredes
A rock concert, a woman and her memories. Memories of a time, not too long ago, where this woman was driven to cloak herself in guilt. She was stigmatized by the rest, punished by the moral of the time, robbed by her own carers and subjected to silence. A silence that now becomes a scream.
The show is born from that need to talk about that part of recent history that has been silenced in Spain: The abuses by the Woman Protection Board.
Gloria
16th March 2019 : 7.30pm
by Noelia Adánez and Valeria Alonso
with Ana Rayo
Gloria enters her dressing room overwhelmed by the noise made by her young fans who terrify her. Someone else follows her in with whom the poet starts a dialogue, full of memories, tenderness and fun. Among her dream like memories, she recalls her first day of class on Spanish poetry at a North American university in 1961: Gloria was at her intellectual zenith, ready to start teaching, writing and loving…
This is theatre about women, written, directed and performed by women.
Una Habitación Propia
23rd March 2019: 7.30pm
by Virginia Woolf / stage version by María Ruiz
with Clara Sanchis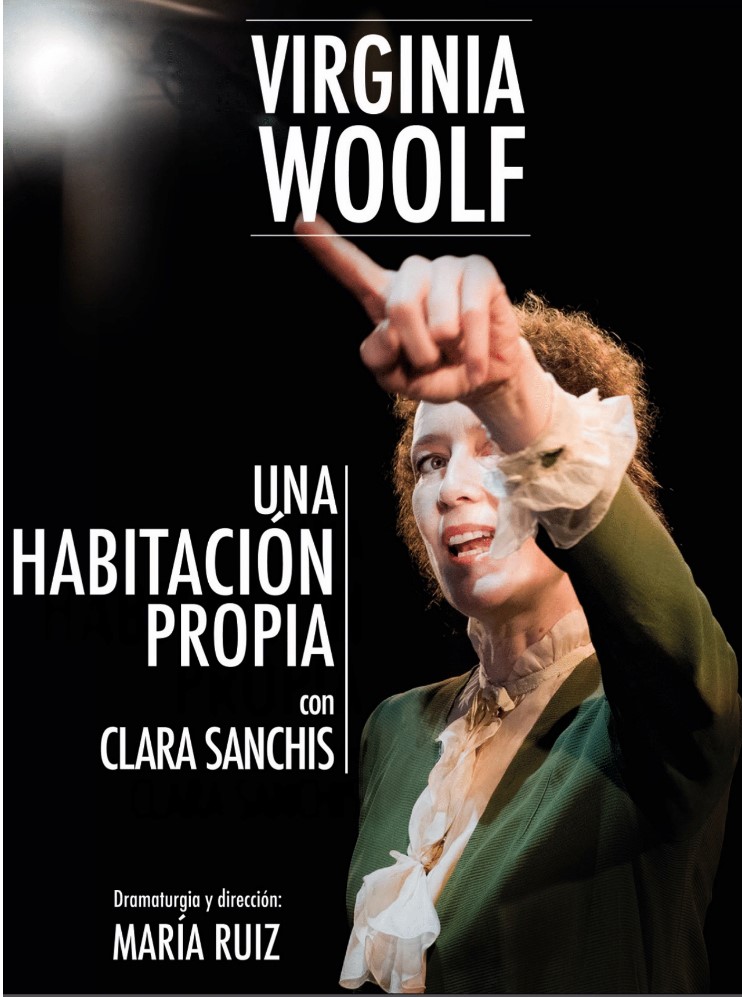 «…There is no gate, no lock, no padlock that you can impose on my freedom of thought.»
A writer gives a lecture to her young students in 1928. Her ironic and sharp words are the vivid account of a discovery: if a woman wants to devote herself to literature, she needs money and a room of her own. Only 9 years before women were granted the right to vote.