Jorge de Juan Masterclass: La Casa de Bernarda Alba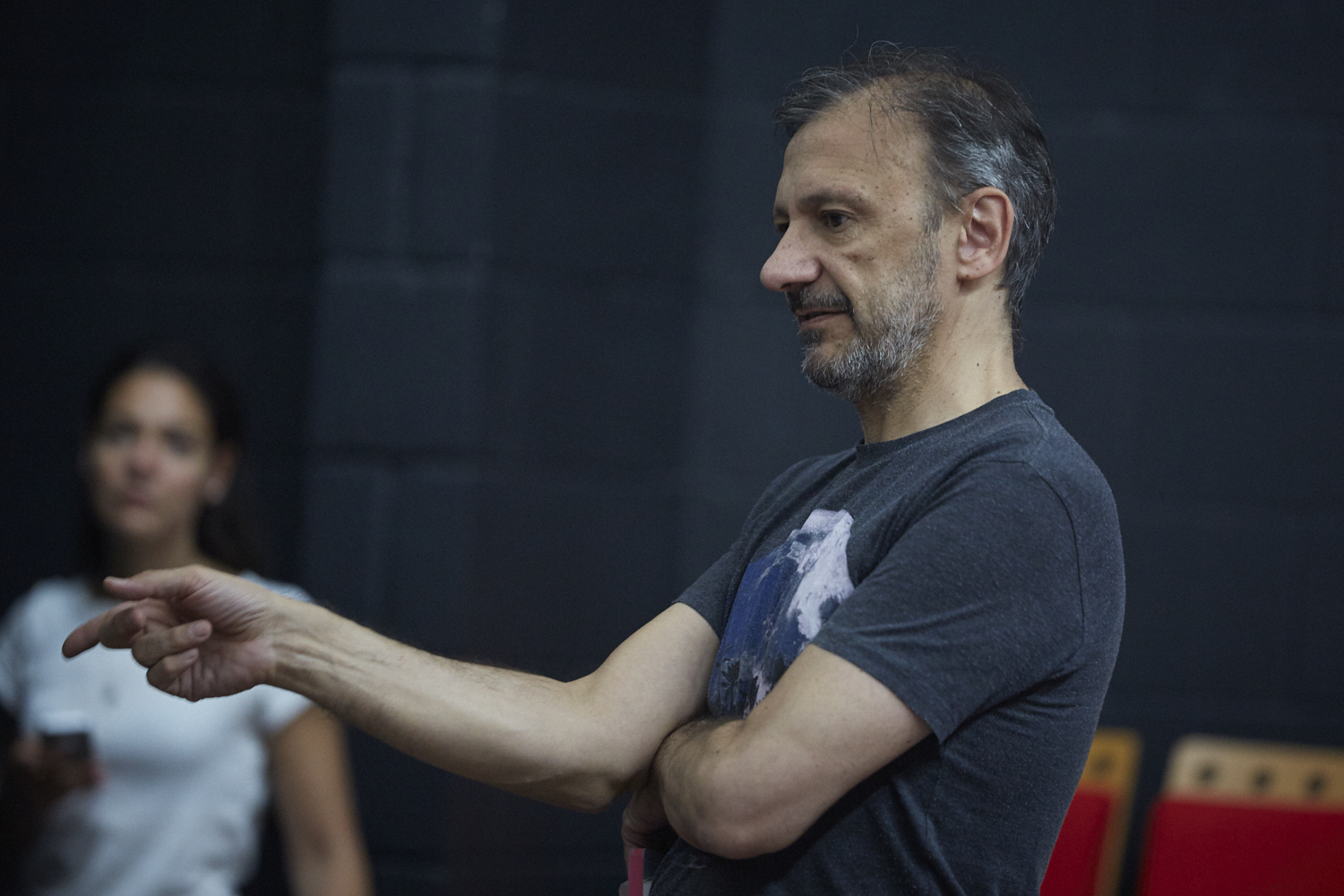 Description:
This interactive masterclass is aimed at students who are studying the House of Bernarda Alba. It covers a lot of the same material as The House of Bernarda Alba Workshop, but in much more depth. We advise it only for students who have already either studied the text for some time or attended the workshop. The key elements are

The masterclass is delivered by expert in Lorca, Jorge de Juan (our artistic director) who has acted in, directed and taught Lorca plays for over 30 years.

There are three professional actresses, all of whom have played major roles in Lorca plays, involved in the masterclass. Their role is to illustrate scenes from the play and be available to discuss the characters and motivation of the play.

The course attendees are limited to 25 to enable participants to get the most out of their individual time discussing the play.

Schools and their students who book this course will have free access to our film of the production leading up to the course and from then until they study their exams.
This is our most intensive 'La Casa de Bernarda Alba' resource and aims to ensure that all students gain a deep understanding of the play. Because of the number and level of resources involved it is expensive to put on, so if you have any doubts please do call us on 0203 633 4406 or email us at education@cervantestheatre.com. Also, in thinking about how you would like to make use of the resources we offer,  please note the other Bernarda Alba resources that we have available including a film of the production, a workshop and the free website at schools.cervantestheatre.com
We offer the masterclass in Spanish exclusively or in Spanish and English, to ensure that every workshop is adapted to the students Spanish level. We also provide educational material to support their learning and preparation for A level exams.
The duration of the workshop is 3 hours.
Facilitators/actresses: one facilitator and three actresses
Number of students: up to 25

Duration: 3:00h
Level: A Levels
Cost: £1050
MASTERCLASS STRUCTURE
This masterclass can either be delivered in Spanish or in a combination of Spanish and English.
0:00h – 0:10h – Calentamiento. (Warm-up )

0:10h – 0:30h – Análisis de la obra por Jorge de Juan (Analysis of the play by Jorge de Juan)
Incluyendo: Argumento; personajes; temas (autoritarismo, represión de la mujer, miedo a las apariencias, clasismo, deseo sexual y libertad); símbolos (casa, bastón, agua, calor, caballo, colores: verde, blanco, negro). Including: Argument; characters; themes (athoritarianism, women represion, fear of appearance, social hierarchy, sexual desire, freedom); symbols (house, cane, water, heat, horse, colours: green, white, black)
0:30h – 1:15h – Visualización de seis escenas de la obra mediante tres actrices y reflexión sobre ellas (Visualization of the play through scenes performed by three actresses and brainstorm about them)
Acto 1: La Poncia y la Criada durante el funeral (Act 1 – Poncia and Servant during the funeral)
Acto 1: Amelia y Martirio (Act 1 – Amelia and Martirio)
Acto 1: Confrontación sobre maquillaje entre Bernarda y Angustias (Act 1 – confrontation over make up between Angustias and Bernarda)
Acto 2: Enfrentamiento entre Adela y Poncia (Act 2: clash between Adela and Poncia)
Acto 3: Enfrentamiento final entre Adela y Martirio (Act 3: final clash between Adela and Martirio)
Acto 3: Suicidio de Adela (Act 3: Adela's suicide)
1:15h – 1:35h – Ejercicios sobre la obra: creación de imágenes fijas (Exercises related to the play: freeze frames)
Representando uno de los cinco temas de la obra tratados en la segunda sección del taller (representing one of the five themes of the play analysed on the second section of the workshop)
1:35h – 2:15h – Tres escenas recreadas por los estudiantes con la ayuda de la facilitadora (Three scenes performed by students with the help of the facilitator)
Escena en que se anuncia el luto (Scene where the mourning is anounced)
Escena de los segadores (Scene of reapers)
Escena de la Librada (Scene about Librada's story)
2:15h – 2:45h Q& A

2.45h – 3:00 h – Cierre: listado en cartulinas grandes sobre lo aprendido en el taller (Closing: listing in large cardboards about what has been learned from the workshop)