THE 2019 SEASON AT THE CERVANTES THEATRE
The 2019 season, sponsored once again by Acción Cultural Española, comprises the New Spanish Playwriting Season III, the Spanish Contemporary Theatre Season II, for the first time, a late Autumn reading of a Spanish Golden Age work.
In 2019, we are staging plays that are written by women and this season continues this. Most are also directed by women, with in total 7 female authors, 6 female directors and 5 female translators showcasing (plus around 20 actresses).
Everything shown in this programme will be available in both English and Spanish on different days.
Flamenco Festival London 2019
In conjunction with Sadlers Wells, the Cervantes Theatre presents the 2019 Flamenco Festival
From Tuesday 2nd July to Sunday 14th July, Sadlers Wells presents a fortnight of dance shows featuring some of the world's finest flamenco dancers and musicians. The Cervantes Theatre is playing host to some of the festival line-up, including Diego Villegas and Flamenco Abierto. 
Diego Villegas

Bajo de Guía



Diego Villegas, in his first album "Bajo de Guia" brings his wind instruments to this picturesque seaside neighbourhood of Sanlúcar de Barrameda, his hometown, with sounds of tanguillo, soleá, bulerías, tangos, rumbas and mirabrás. His music is as intuitive as he is, fresh, expressive, rich and honest. "A clear vision between the sea and the river" as described by José Luis Ortiz Nuevo in "Bajo de guía".
Saturday 6th July 2019  2.30pm 

Ticket Prices: from £15

Flamenco Abierto



Flamenco Abierto arise from the need to share Flamenco preserving its essence but always opening to the world an art that is very alive. Four paths fuse to bring more visibility to Extremaduran Flamenco. Each of its members have developed their art, working with a broad range of Spanish musicians and now is the moment bring this exciting style to an international audience
Saturday 6th July 2019  7.30pm 

Ticket Prices: from £15

Jazz Eñe: Antonio Lizana

Oriente



Admired as a saxophonist, vocalist, and composer, he has mastered both traditions, flamenco and jazz, and brought international recognition to his work. Among his many credits is collaborating with Grammy winner Arturo O'Farrill's Afro Latin Jazz Orchestra. For this special occasion, he performs selections from his latest recording, Oriente, experimenting with Eastern rhythms and sounds in his flamenco-jazz mix.
Thursday 11th July 2019  7.30pm 

Ticket Prices: from £15

Fourth Monkey at the Cervantes Theatre
Fourth Monkey at the Cervantes Theatre

 

 
Following a number of creative collaborations between the two organisations in recent years and after a first season at the theatre last year, Fourth Monkey and the Cervantes Theatre are delivering another season of Spanish and Latin American work with the final year students on Fourth Monkey's Two Year Rep Accelerated Actor Training programme. 
Fourth Monkey artistic director Steven Green says of the project: "ever since meeting Jorge De Juan and realising his vision for The Cervantes Theatre it has been a shared desire of ours to collaborate on a project with our students here. Jorge has previously directed two of our student productions, quite notably the celebrated Lorca classic The Public. But this is an exciting new annual project for us that we look forward to developing as we move forward. It's imperative to us and the training objectives of our inspirational Director of Training Charleen Qwaye that our students work with diverse texts and with an international outlook. With a multi-lingual and diverse cohort of students what better way to celebrate diversity in our work than to work with texts not originally in the english language. This for all of us is a joy and we cannot wait to see what our students produce."  
All performances are in English
Thursday 4th July 19:30, Friday 5th July 14:30, Friday 5th July 19:30 
Ticket prices: £14 full, £10 concs  
Contemporary Spanish Theatre – Season II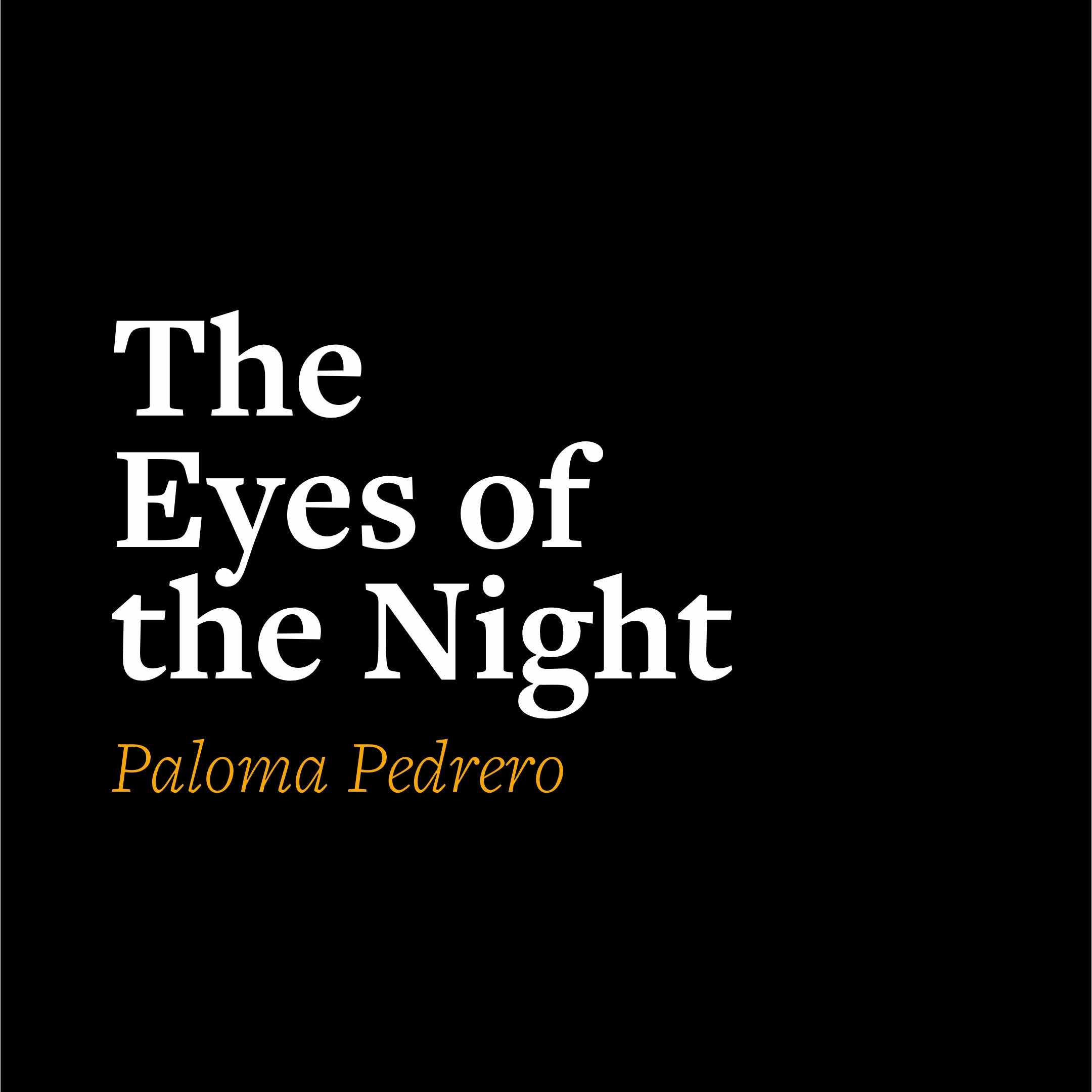 The Eyes of the Night 

Los ojos de la noche
written by Paloma Pedrero
translated by Catherine Boyle
Life is full of moments of change that can pop up at anytime. An unexpected encounter between an older woman, who supposedly has triumphed in life, and a young blind man who she has hired to spend a few hours in a hotel with can be the trigger for a new life. Both will have to be able to open up and let themselves go with the flow…
Performances 11th – 28th September 2019 at 7.30pm, Tickets from £12.50
Tickets for these performances are on sale shortly. Please ring the box office on 0203 633 4406 if you would like to pre-register
Run ! 

¡Corre!
By Yolanda García Serrano
There are siblings that hurt you, and Kico, who reappears to disturb the life of his only sister Emma, is one of these. Kico, who learnt to run before he could walk. First in front of his mother, later in front of his teachers and much later in front of the police. In contrast, Emma was always a good girl who learnt to protect herself from the disputes that racked her family. Why is it that siblings can be so different ?
 RUN ! takes place over the time period of a year, from winter when, for the first time in a long time, Emma visits her brother in prison, to spring when Kico's desire to run will determine both of their futures. «Nothing attracts you like the bad person» is the phrase that hovers over the relationship between the brother and sister. Why ? Because it's as true as it's painful.
.
This is a Cervantes Theatre Rapid Production:  
Friday 4th October 2019 7.30pm  in Spanish, Saturday 5th October 2019 7.30pm in English
Ticket Prices: £15 / £12 concs
Tickets for these shows go on sale soon. Please ring the box office on 0203 633 4406 to preregister
Stupid People 

Gente Estúpida
By Daniela Fejerman
Two brothers who argue as to who should care for their lonely mother, a couple who sleep together again after a year of separation, a pregnant policewoman, a British father who aims to pick up his son on his birthday, a desperate man who assaults an off-roader driven by a local dignitary. This is a comedy about stupidity, which knows no economic or social barriers. For there are stupid people in all societies, throughout all ages of all sexes, religions and races. But do we stop to think about this ?
This is a Cervantes Theatre Rapid Production:  
Friday 11th October 2019 7.30pm  in Spanish, Saturday 12th October 2019 7.30pm in English
Ticket Prices: £15 / £12 concs
Tickets go on sale for this show shortly. Please ring 0203 633 4406 to preregister
Courage, Outrage and Woman 

Valor, agravio y mujer
By Ana Caro de Mallén
Translated by Catherine Boyle
The heroine, Leonor has been abandoned by her lover, Juan. She disguises herself as a man in order to challenge him with the hope of restoring her lost honour through his death. Following him over the seas, she becomes caught in a lover triangle (courting, as a man, her rival Estela) and successfully manipulates everybody she meets.
Friday 18th October  2019 7.30pm  in Spanish, Saturday 19th October 2019 7.30pm in English
Ticket Prices: £15 / £12 concs 
Tickets for this reading go on sale shortly. To pre-register please call 020 3633 4406