THE SWALLOW/LA GOLONDRINA
Audience Reviews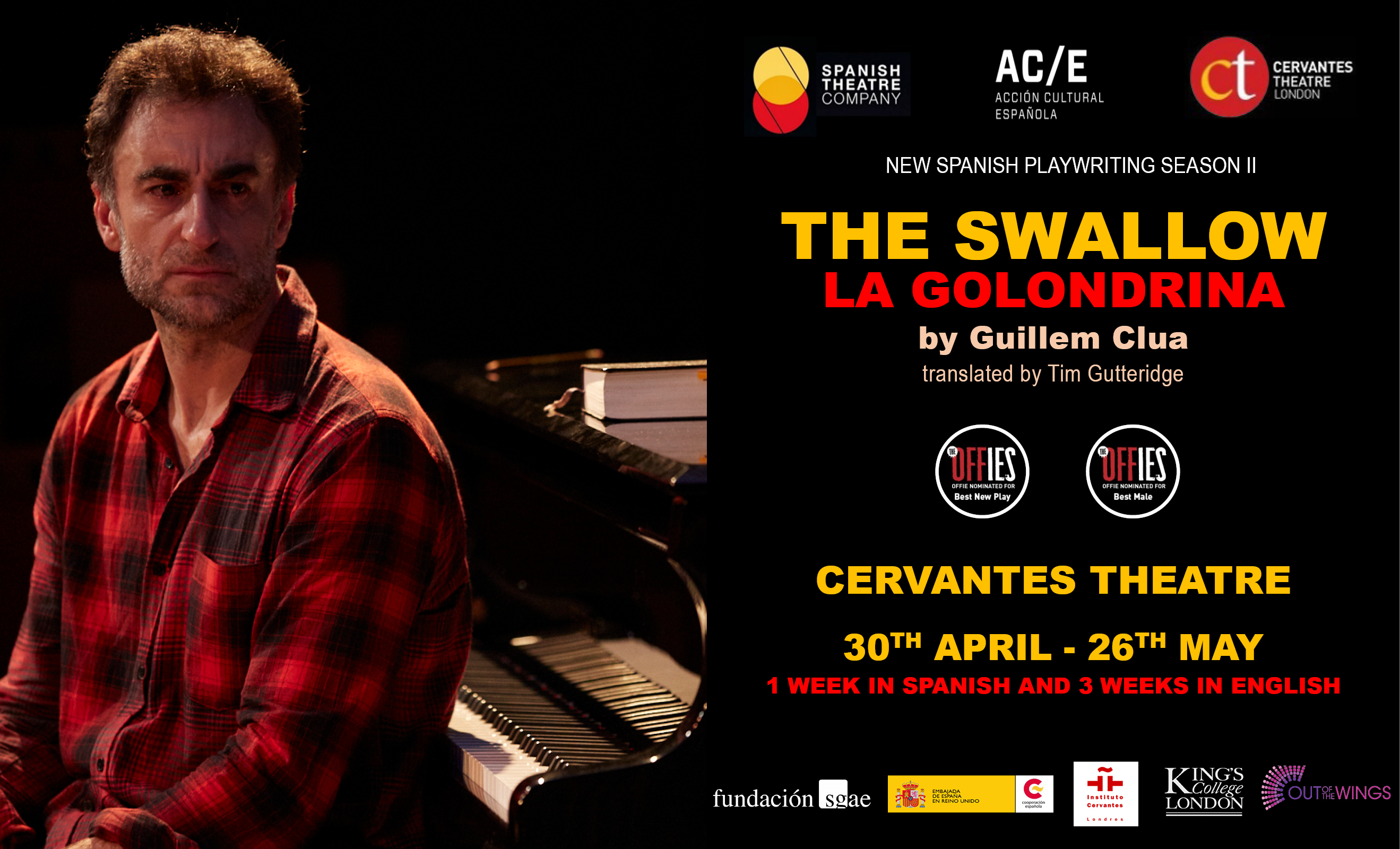 THE SWALLOW 

LA GOLONDRINA
30th April – 26th May
If you have seen the play, add your review by emailing us at reviews@cervantestheatre.com 
"The Swallow was a tour de force for two actors who each in turn reveal their inner most hell relating to the loss of a loved one. The climax sends you into sharing their respective grief before a thankfully shared moment where the grief returns to love and solace" – 5*
"My friends and I loved 'La Golondrina' at the Cervantes Theatre! Great 2-person show and fantastic ambience in the small theatre — feels very intimate and personal." – 5*
"Outstanding performance in excellent venue." – 5*
"The audience (including myself) were on the edge of their seats, all the way through whilst the story unfolded". – 5*
"Brilliant play with excellent performances by both actors. Sad story yet weirdly uplifting as well". – 4*
"It was a raw and overwhelming play, leaving with the need to say "I love you" to my family". – 5*
THE SWALLOW Audience Reviews from its World Premiere at the Cervantes Theatre
25th September – 14th October 2017
"An emotional journey  that unfolds through a moving exchange between the characters as they share each other's sense of loss, grief, fear and guilt. A sensitive reminder of the fragility of life and the power of love." –4*
"Performance was extraordinary! Play need to be absolutely seen!" – 5*
"I was absolutely blown away by the play.  Fantastic play."  – 5*
"Great portrayal of characters, and a great display of emotion surrounding a delicate subject matter." – 4*
"I loved it – deeply emotional." –5*
"Very moving drama about something we should all reflect on. A form of art that help people to feel we are all part of a community that shares the same responsibility. Amazing actors, who were able to take me there in space and time with very scenographic effects. Definitely worth it." – 5*
"Fantastic. One of the best plays I've seen.  Really moving" – 5*
"The text is very strong. The actors very good. I recommend!" – 4*
"This was a very powerful play, the performers left every ounce of them on the stage, two people consumed by pain of a a sudden departure the person they loved the most. Also a powerful reminder of how as a society we are still excluding those whom we believe do not follow the norm or identify with what society dictates. Just fantastic, thanks to the actors, director, writer and all those making part of this production. Well done you all" – 5*
Guillem Clua

Playwright

Critically acclaimed director Guillem Clua on THE SWALLOW: "Declaración de Guillem sobre su obra".
Clua's previous work has been translated into English, German and French. He has received various awards such as the 2011 Butaca Award, the 2013 Time Out Award, and the 2017 Max Award.
In 2015 we had the opportunity to see his play Skin in Flames (La Piel en Llamas) performed in the Park Theatre of London. Now the opportunity has arrived for us to carry out the global premiere of THE SWALLOW and help to consolidate the career of Clua in this city.
Paula Paz

Director

Paula is a theatre director and a former professional ballet dancer. She holds an MA with Distinction in Theatre Directing from Mountview Academy of Theatre Arts. She has cofounded and is Associate Director of the Spanish Theatre Company and the Cervantes Theatre in London.
As a professional Ballet Dancer, Paula worked with Angel Corella Ballet, Maria Gimenez Ballet and Ballet Ireland.
As part of her MA in Theatre Directing at Mountview Academy she has directed Eigengrau and Knives in Hens. She has been assistant director on Hay que Deshacer la Casa and The 39 Steps (Teatro Arenal Madrid), Love's Labour's Lost (Unicorn Theatre) and The Grain Store (Fourth Monkey).
Paula was on the directing pathway for the Young Friends of the Almeida's Latitude Festival production Last Words You'll Hear and she was movement director for the devised piece Home is Where. With the STC she has directed a dramatised reading of Sebastián Junyent's It is Necessary to Take Apart the House (White Bear Theatre) and of History of a Staircase by Buero Vallejo (Canada Water Culture Space).
DAVID LUQUE
David Luque,  is  an  English  Literature  Graduate  from  the Universidad Autónoma de Madrid. He studied the Lecoq Technique with María del Mar Navarro and became a permanent member of the ensemble of the Teatro de  la  Abadía  in  2000,  where  he  studied  with  leading  authorities  such as Tapa Sudana,  Juan Carlos Gené, Lenard Petit  and  Marcelo  Magni. Most recently  David  Luque co-stared  as  Rodrigo  Salazar  in  the  film Teresa which  premiered  at  the  San  Sebastian  International  Film Festival. 
In theatre he was recently seen in Alex Rigolas's El Público by F.G. Lorca; Film  includes: Goya's  Ghost (Milos  Forman), The  Reckoning (Paul McGuigan),  People in Places (Juan Cavestany), El club de los suicidas (R. Santiago), Goya en Burdeos (Carlos Saura), Sleeping Luck and One word from you (A.G. Sinde); Television  includes: El Ministerio del Tiempo, Bandolera, Cuéntame,  El  síndrome  de Ulises, SMS,  24H,  Antivicio. In  2011 he co-founded with stage director Fefa Noia the company Los Lunes. Together, they have staged "Wild Wild Wilde" by J.R. Fernández, Cuerdas by Bárbara Colio, Ayuda by Maria Goos and País by Fefa Noia.

AMPARO CLIMENT
Amparo Climent is a multidisciplinary Fine Arts graduate artist. She studied performance, directing and playwrighting at both the "Official School of Filmography at Madrid" and the Valencian school 'El Micalet'.
She is the scriptwriter and director of shorts and documentary films such as: Las lágrimas de África, Porteadoras and, cooproducer of 'Los sueños de Idomeni'. Furthermore, she is the author of many plays such as: La caja oscura, Hijas de la soledad, A Pony le pintaban los labios de rojo, Las hijas del mal, El último destello…
She is part of the Board of Directors of the 'Academy of Arts and Cinematographic Sciences of Spain' and has served on the Committee of Experts advising the Spanish Ministry of Culture on funding for cinematography
JERYL BURGESS
Theatre includes Fear and Misery (Union), The Robbers, Hamlet, Thebes (New Diorama/Greenwich), Humble Boy (National Tour), Contactless (Hen and Chickens), St George's Day (Park), What's Your Issue (Cockpit), Sleepers' Diner (Arts), Absolution (Theatre 503), Memory of Summer (Jermyn Street), The Laundry (Jack Studio), Lines (Rosemary Branch), The Winter's Tale (Rose, Bankside).  Film includes Seven Lucky Gods (Jamil Dehlavi), A Nightmare on your Street (Stephen Hopkins). TV includes PREMature (LigerFilms).